After years of anticipation, many Americans watched as the "Great American Solar Eclipse" made its way across the continental U.S. yesterday for the first time in 99 years. Researchers predicted it to be one of the most watched solar eclipses in history and experts warned of the potential affect it would have on cellular traffic and signal availability and network congestion within the areas along the "path of totality" and across the country.
Although many mainstream news outlets encouraged observers to put down their mobile phones and enjoy the moment, millions of people turned to social media and text messaging to share photos and videos of the historical event with their friends and family.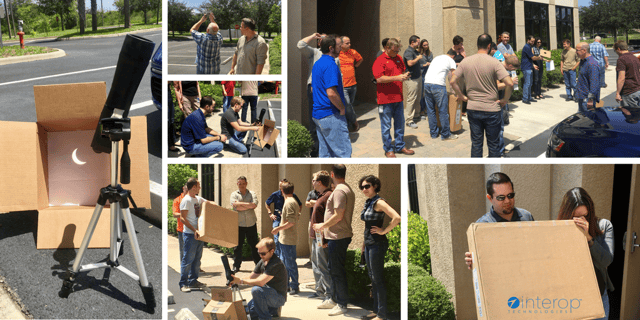 Yesterday Interop Technologies recorded a 91.7% traffic increase to its Multimedia Messaging Service (MMS) solution and a 33.5% increase of its Short Messaging Service (SMS) solution compared to each solutions total average daily throughput. Due to the scalability of Interop's Cloud infrastructure, our customers were able to support the sudden increase of their subscribers' messaging behavior with high bandwidth and low latency. This type of on-demand flexibility has also enabled Interop's customers to not only provide a consistent quality experience, but also provide a quality of service and reliability that can only be accomplished through managed services. Traditional hardware-based deployments do not provide an elastic capacity to handle these large increases in usage, especially for special events like yesterday's eclipse, which may only happen every few years or in this case much longer.
Operators today are planning for an IP-based future and Interop Technologies is already there. All of our cloud-based messaging solutions support both legacy and IP-based technologies simultaneously. This allows for the deployment of next-generation technologies like Rich Communication Services (RCS) and Messaging-as-a-Platform (MaaP), while maintaining seamless operation and services for legacy devices and networks.
For more than 15 years, Interop Technologies has been on a mission to find better ways to deliver next-generation communication solutions to the mobile industry from the cloud to prepare operators for the future of technology advancement.