Remain Compliant with New WEA Enhancements
In order to ensure that the safety requirements of the public are being met, the WEA system receives continual enhancements based on research and technology developments.
The latest FCC orders for enhanced WEA functionality and compliance will be implemented by November 30, 2019. The third update to the WEA system includes enhanced geo-targeting to ensure that the critical information in mobile alerts reach the right people during an emergency. Make sure to check with your device and network providers for additional requirements introduced with the WEA 3.0 update.
WEA 2.0 functionality was implemented on November 1, 2016 and included increasing character limits from 90 to up to 360 characters on 4G-LTE and future networks and devices, support for Spanish-language alerts, and enabling phone numbers and URLs to be embedded in alerts to provide additional alert-related information to subscribers.
Although WEA compliance is voluntary, it is viewed by most as a critical customer care initiative with potentially dramatic subscriber retention implications for those who opt out.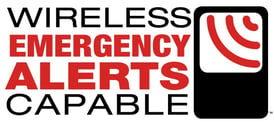 With significant growth in the availability of WEA-capable handsets—easily recognized by the official WEAC logo on device packaging or at operators' retail outlets—and greater subscriber awareness, WEA alerts are a mobile service that subscribers have come to expect and value.
Types of Wireless Emergency Alerts
Presidential Alerts are a special class of alerts only sent during a national emergency.
Imminent Threat Alerts include natural or human-made disasters, extreme weather, active shooters, and other threatening emergencies that are current or emerging.
Public Safety Alerts contain information about a threat that may not be imminent or after an imminent threat has occurred. Public safety alerts are less severe than imminent threat alerts.
America's Missing: Broadcast Emergency Response (AMBER) Alerts are urgent bulletins issued in child-abduction cases. Rapid and effective public alerts often play a crucial role in returning a missing child safely. An AMBER Alert instantly enables the entire community to assist in the search for and safe recovery of the child.
Opt-in Test Messages assess the capability of state and local officials to send their WEAs. The message will state that this is a TEST.