FORT MYERS, Fla. & BERLIN—Nov. 12, 2019— Interop Technologies announced today that it has won the 2019 Leading Advanced Communications Award for its Rich Communications Services (RCS) technology at Informa's Voice and Advanced Communications Summit last week in Berlin.
Interop was selected by an expert panel of impartial industry analysts for its ability to successfully deliver an innovative RCS solution that enhances the customer experience for end-users.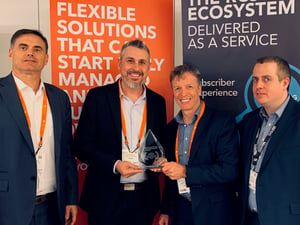 Interop's end-to-end, GSMA-accredited RCS solution enables mobile operators to evolve their legacy messaging and stay competitive in their market by delivering an exceptional customer experience through personalized engagement, while also capturing new revenue opportunities and reducing customer support costs.
"We are excited that our dedication to RCS technology excellence and innovation for mobile operators has been recognized with Informa's Leading Advanced Communications Award," said John Dwyer, president and CEO at Interop Technologies.
"RCS is impacting the global wireless industry and it's critical that operators partner quickly with a quality, flexible messaging expert as they prepare to launch. This award demonstrates that we are that partner and celebrates our nearly 20 years in carrier messaging, 12 years in RCS messaging technology, and our never-ending commitment to always be an operator's better way forward."
Interop Technologies' long history developing core-messaging technologies for mobile operators has provided a strong foundation for the company's leadership in RCS technology. Besides having one of the first and longest held GSMA Universal Profile (UP) accreditations for an RCS solution, Interop's continued development and dedication to mobile messaging has positioned the company as one of the world's most accredited RCS solution providers. After the release of the UP 1.0 and 2.0 standards, Interop also became the most requested testing and accrediting network solution partner for the industry's largest device manufactures and client/OS developers.
A highly anticipated upgrade to traditional SMS messaging, RCS has been launched by 81 operators worldwide and the GSMA forecasts an additional 27 operator launches by Q1 2020.
Interop Technologies will exhibit at Mobile World Congress 2020 in Barcelona February 24 – 27.