Text messaging captivated the world in the 1990s and quickly became one of the most prevalent forms of communication globally. Despite the widespread growth of SMS, not much of the technology has changed since it was first released almost three decades ago.
The advent of the smartphone and it's "app revolution" combined with the market entry of free over-the-top (OTT) messaging applications placed mobile network operators (MNOs) in a new situation with a once lucrative product that consumers no longer wanted to pay for. I mean who would, right? OTT messaging companies had found a way to expand the functionality and features available with SMS/MMS and make it all work over top of operator networks through a simple WiFi connection.
Thankfully, a new native messaging movement has emerged that introduces several new use cases for MNOs. The Rich Communication Services (RCS) protocol incorporates the global reach and user simplicity of SMS and exceeds the capabilities of today's OTT messaging apps, giving operators a truly transformative opportunity to not only control, but capitalize on messaging again. This is not a simple expansion of legacy messaging services, but a complete messaging revolution that requires understanding, investment and planning from MNOs for it to be universally successful. Below we've outlined four ways that RCS messaging will benefit the mobile operator:
1. Enhancing the Subscriber Experience
One of the biggest reasons that subscribers left native/operator messaging for OTT messaging apps was simply because it had far more appealing and personalized features. RCS and RCS Business Messaging (RBM) takes this to an entirely new level with features and capabilities that successfully compete with OTT messaging providers and enhance the subscriber experience.
RCS P2P features and capabilities include:
Group and cross-platform messaging
Read receipts and typing indicators
High-res photo and file sharing
Location and contact sharing
Personalization features and emoticons
Video calling
SMS/MMS fallback
Data Analytics
Mobile number as user identifier
The implementation of RBM further enhances the subscriber experience with the introduction of conversational commerce, which enables businesses to have branded conversations with subscribers across networks using rich media, suggested actions, automated responses, and more. With the overflow of messaging applications available today, RCS creates an opportunity for MNOs to improve the fragmented user experience that has been created and bring it back on-network.
2. Improved Customer Interactions & Brand Loyalty
It's no secret that mobile operators have been struggling for years to keep up with the growing expectations of their subscribers. Yet those who fail to provide a consistent and engaging subscriber experience expose their brand to descension and increased churn rates. That's why it's so important for MNOs to improve their customer interactions and drive brand loyalty.
Besides providing subscribers with a far superior feature set, RCS can be used as a channel for MNOs to improve communication with their own subscribers to effectively drive customer retention and reduce churn.
Key approaches to using RCS to drive customer loyalty:
Communicate frequently with subscribers via messaging to keep the brand top of mind.
Create customer loyalty programs to engage and reward subscribers.
Ensure subscribers are informed about new products, billing activity and announcements.
Understand subscriber behavior by evaluating program touchpoints like actions, replies, transactions and read receipts.
The operators who will survive the next wave of technology advancements will be those that are able to pivot their focus from a technical network performance mindset to one that actively manages the total customer experience lifecycle. MNOs need to understand what their subscribers are using the network for, what they value overall from a mobile provider, and realize the differences between network access and network activity to deliver and control superior QoS and QoE of both.
3. New Revenue & Growth Opportunities
The advent of OTT services coupled with market saturation and demand for more data have all contributed to the decline of traditional telco revenues and RCS provides MNOs with an opportunity to diversify and explore new growth opportunities.
As one of the most prevalent forms of communication worldwide, mobile messaging is where enterprises want to market to their customers. With RBM, operators can offer brands a personalized and permission-based mobile marketing channel that still preserves the reach, performance and reliability of SMS… something that OTT providers are unable to provide.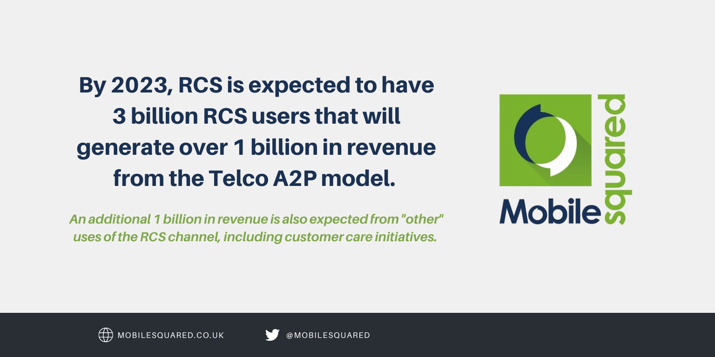 As well as the RCS features mentioned above, RCS Business Messaging (RCS A2P) offers:
Verified Sender: Provides peace of mind for subscribers with business verification.
Custom Branding: Businesses can include their name, logo and brand colors.
Carousels: This app-like feature allows brands to display scrollable images, GIFs, QR Codes, videos or audio files that highlight their product or service.
Suggested Actions: These clickable buttons allow customers to complete an assortment of actions including click to call, add to calendar, open maps, link to website and more.
Rich Media: This enables businesses to share full-size, rich media content like boarding passes, concert tickets, mobile coupons and more.
Quick Reply: These clickable suggested replies enable subscribers to reply without typing for anything from yes and no answers to scheduling an appointment time or setting a reminder.
Data & Analytics: Provides a better understanding of the habits of subscribers with data and insights into the behaviors and intent of customers for MNOs and brands.
The GSMA's RCS Universal Profile 2.0+ specifications include a standard for MNOs to use to create and monetize RCS chatbot directories which are embedded directly into the native messaging application on mobile devices. From these directories, subscribers will be able to browse brands using RCS and start engaging with them instantly, creating a strong value proposition for RBM adoption. Brands will pay MNOs to ensure that they can access the subscribers within your network. Plus, initial brand campaigns using RBM have resulted in higher open, response and click-through rates than SMS.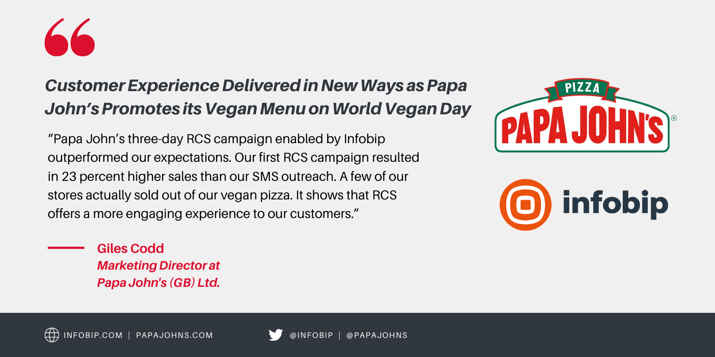 In addition to driving new revenue with brands, RBM can be used by MNOs to:
Reduce customer support costs
Extend service offerings
Upsell merchandise
4. Next-Generation Technology Partners
What is the saying? You can do anything, but you can't do everything. Today more than ever, mobile operators need to diversify and grow their business to deliver new services rapidly and stay competitive. The smart way to do this is through technology partners. In order to realize the full success of RCS Business Messaging and the new mobile economy it will create, operators need to identify a specialized partner to assist in the deployment, management, support and integration of RCS in order to grow adoption and receive the highest ROI possible.
What to look for in an RCS partner:
Reliable Products & Services:

Your provider should have significant experience developing and deploying telco-grade messaging solutions and build their RCS solution according to Universal Profile standards.

Custom Business Models:

Your provider should be willing to design business models that fit your unique business needs, such as offering a pay-as-you-grow pricing model.
Deployment Flexibility & Scalability: Your provider should have flexible deployment options, such as allowing you to transition between hosted cloud, private cloud and on premise deployments to provide scalability for your business growth.

Customer Service & Support:

Your provider should care about your success and provide the services and support you need to get there.

Operator-Network Expertise:

Your provider should understand the operator network and have experience working in them.

Future-Focused RCS Roadmap:

Your provider should have a comprehensive understanding of the greater RCS ecosystem and have plans to continually develop their RCS products and services.
In Conclusion, RCS truly provides the perfect opportunity for operators to move their messaging network forward and in doing so create additional revenue opportunities, while improving the subscriber experience and brand loyalty. At Interop Technologies, we provide operators with an award-winning, accredited Rich Communications Services solution that includes IMS Core capabilities and RCS Application Servers, RCS Interconnect Hub, and a comprehensive RCS Business Messaging platform with chatbot integration.
Contact us to set up a no-obligation consultation to learn how we can help you find your better way forward!