The simple reality is that 5G technology is a much-needed advancement for mobile operators and consumers alike. As the fifth generation of wireless network technology, 5G provides up to 20 times the speeds of 4G networks and is designed to enable lower latency and greater capacity for multiple devices to connect to the same network. The 5G network also can provide higher throughput and near-instantaneous communication, which makes it ideal for applications such as the Internet of Things (IoT) and artificial intelligence (AI).
The world of technology is evolving quickly, and regional operators need to be swift in deploying these new technologies to satisfy the increasing demands of today's consumers. As 5G technology continues to expand and become more accessible, businesses are increasingly turning to mobile technology for their next big idea, and they're looking for networks and partners to help make their 5G goals a reality. We're already experiencing how 5G has enabled companies in a wide range of industries like health care, manufacturing, retail, and automotive to revolutionize how they operate. And this is just the beginning!
Acknowledging the Challenges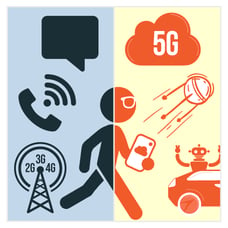 While 5G networks have been deployed by several large operators worldwide, the availability and speed of the service may vary depending on location and the network provider's buildout roadmap. As a relatively new technology that is still being developed and implemented, there are definitely challenges that need to be addressed. For many regional operators, these challenges could be the cost of deployment (which slows buildout), a lack of expertise (which affects QoS), and a lack of standardization across some markets (which affects QoE).
However, there is nothing that will stop companies from working to capitalize on 5G. Take messaging for example; rich messaging apps now have surpassed social networks in size and have become the preferred way for consumers to engage with brands globally. Have you adequately made plans for launching 5G-enabled messages on your network? Are there congruent steps in place to maximize revenue opportunities that come with this new era of mobile connectivity? Clearly, regional operators should be making sure that all aspects are fully taken into account as part of a "5G reality check" because it's just the beginning — more mobile services enabled by 5G will surely come up soon.
Read the full article in the CCA Voice or download the pdf.