The proliferation of the Internet of Things (IoT) comes with numerous potential benefits. Baby monitors, smart meters, even the connected car are all made possible by IoT technology. With this, the sheer volume of IoT connected devices is projected to explode in coming years, surpassing even the number of mobile handsets we use today.
All of these devices will need to connect to the network, which presents the question of how mobile operators will be able to manage and monetize their networks in this new era and how they can begin to prepare for it now?
Gartner has estimated that the number of IoT devices will total around 20.8 billion by 2020. With this in mind, IoT is considered one of the most disruptive new trends to hit the telecoms industry to date. As revenue from calls and data charges continue to decline as a result of new applications and technologies, this should be a welcome disruption for mobile operators that are ready to take advantage of the opportunities it presents.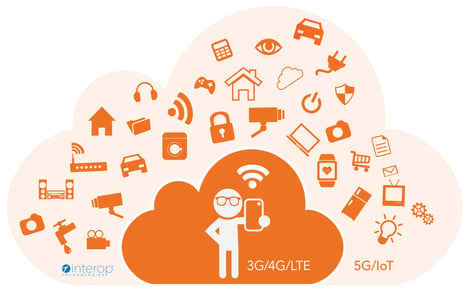 What should be interesting to mobile operators is exactly how all of these IoT devices will connect to the network. Because the range of uses for these devices is so broad, there is no default way in which they will all connect, for how long, at what intensity, etc. For example, a connected printer won't require the same availability and reliability as a medical device. Instead, IoT traffic will likely manifest itself in two broad groups: Massive applications and Critical applications.
Devices that require minimal data traffic, such as smart appliances, are part of the Massive IoT applications group that currently represents about 70% of IoT implementations. Normally, these applications use low-bandwidth connection technologies such as GSM-only, but some mobile operators are already rolling out low-power WAN (LP-WAN) networks, such as LoRa and Sigfox.
On the other hand, Critical IoT applications require ultra-high reliability and availability with very low latency. Examples include health and medical monitoring devices, telepresence (such as remote surgery and remotely-controlled vehicles), industrial infrastructure command-and-control, and autonomous cars. These applications need specialized, higher-bandwidth connection technologies such as LTE and WiFi to function. These same applications will be the driving force for the adoption of 5G, which will be the foundation that supports and extends the transport layer, enabling new technologies. The uptake of 4G and its increased data and services was incredibly fast, but there is a gap widening between 4G-based services and those services that could benefit from 5G.
There is no doubt that 5G and IoT are on their way and that they will significantly impact mobile networks, but how operators can monetize them is not immediately obvious. For example, Massive applications will not need to use much bandwidth or communicate very often, so the revenue from data transport will not be a replacement for the mobile revenues of the past. Instead of looking to connectivity and transport, operators should consider applications and value-added services instead. While determining what these might look like, operators should also be looking at ways to adapt and scale so that they are fully prepared for whatever might come next.
The ability to scale and adapt will be key to delivering these revenue-generating, value-added services, as well as embracing cloud technologies like Network Function Virtualization (NFV). Implementation of cloud-based platforms for new products and services allows operators to be agile. Rather than the upfront, CAPEX costs associated with investing in new hardware infrastructure, cloud-based platforms offer a significant cost reduction and flexible payment options. This allows the operator to scale up or down dynamically depending on market demands and provides the ability to easily shift business models and strategies.
Scalability is particularly relevant when it comes to IoT; it is still an emerging technology in the sense of its continued development and finding its place within various industries. It also remains unknown how its traffic patterns might manifest themselves in future iterations of IoT applications and how that might impact mobile operators. Put simply, there is a lot we do not know about IoT. So investing in one particular aspect of the technology now is a huge risk, while an investment in a cloud platform that is ready to take on whatever ensues is significantly less risky.
Opting for the cloud also has the added benefit of minimal hardware or software in the MNO's network to operate and maintain. It also enables the technical resources that would have been dedicated to managing the new platform to instead be focused on other revenue-generating activities. Meanwhile, NFV is a principle cloud technology that facilitates resource pooling, rapid elasticity, and on-demand self-service. It can virtualize entire classes of network node functions into building blocks to create new and highly scalable digital products and services that are cost-effective and quickly adapt to existing services.
While operators are waiting to see exactly what this IoT revolution will bring, there is an ongoing transformation need towards all-IP networks, embracing the cloud as a central strategy for future success. There are already new IP-based technologies, such as Voice Over WiFi (VoWiFi), Voice Over LTE (VoLTE) and Rich Communication Services (RCS), which assist operators in the evolution towards becoming a digital telecom. The wait is over−the time to build a robust cloud infrastructure is now, so that operators can gain first-mover advantage on advanced mobile technologies and to be in a prime position to adapt to new IoT applications that roll out in the future. Indeed, the cloud is likely the only strategy for operators to future-proof their business.